Over the last month Bristol House of Music has been working very hard at reopening and have spent our time building a new studio space where lessons will take place. We have documented the whole thing and hopefully this will inspire some of you guys to also build yourselves a space to play music! Other than plastering and the electrics we did everything ourselves, watching YouTube videos and just giving it a go!
HOW IT STARTED
It all started with clearing an outside room of the house, this room had originally been an old garage that was bricked up and had just been used for storage. There was no electricity (that worked), but there was a bit of a frame that someone had started previously. There was also some piping and a tap just randomly coming down the wall.
But we were INSPIRED!! This is an amazing space and we thought it would be perfect place for students to learn!
FIRSTS THINGS FIRST!!
The first thing we did was measured everything and made a budget of how much everything was going to cost (roughly). This is really important as you can see all the steps required and what help you might need.
The categories we thought about were:
Flooring

Plasterboarding

Plastering

Plumbing

Electrics

Insulation

Sound proofing

Decorating
TOOLS
As we have just moved from America, we didn't have the greatest amount of tools available, so we had to purchase a few things. It is important to have the right tools for the job otherwise it will take a lot longer and it'll make everything very difficult. Saying that, we were on a budget so this is what we ended up with. A saw, a good drill (that does hammer drilling and normal), good screwdrivers, Boss drill set, hammer, crowbar, Stanley knife, level, tape measure, plyers, side cutters, chisel and a jigsaw.
PLASTERBOARD AND INSULATION ARRIVED!
The first thing we bought was plasterboard and insulation. We needed 24 Gyproc Square edge plasterboards. Also, as this is a bricked buiding we decided that we didn't need a crazy amount of soundproofing, having done a little test before hand; simply playing a song at high volume and seeing how much sound escapes and where from. So we just went for the Celotex TB4000 insulation and we needed 5 of them.
GETTING GOING
Once we moved all the plasterboard around the back (it is heavy!). We got started!!! As we already had some of the frames done, we decided to get going on the two walls. We did get an electrician to come round and put some preliminary cables in. The Celotex insulation is very simple to cut so we just measured each space up and cut with a Stanley knife and it slotted in very tight.
Once all the insulation was secure, we then got out the plasterboard and made a plan about how to cut each board as It is important that the plasterboard has wood to screw onto, so cutting it at the right point is crucial.
Once we had a plan we got going and started to cut and secure the boards to the wall. We used 3.5 X 38 drywall screws and bought 200 of them!. You can see the cuts we had to make and we made sure to put enough screws on each bit where it met the wood.
One and half walls done!! We cut around all of the beams using a tape measure and Stanley knife and got the final parts in for the two walls. As well as that we measured where the cables needed to come through and cut a little hole and fed it through. We made sure we had plenty of cups of tea...
And that was a big section done! We couldn't go any further until we sorted out the frame...
THE FRAMEWORK
The next step was to figure out the frame for the corner wall. I will remind of you what it looked like before, some broken bits of wood and not much else...
So we first purchased some thick 47mm thick wood for the sides of the frames. We decided to use three of these to go down by the beams, luckily we had lots of wood hanging about for the cross members.
The wood needed to be a few inches away from the wall to be straight and to fit the insulation so we just measured this before securing and used a level to guide us. The hardest part was all of the sawing, for each cross member we created a little platform for the wood to sit on, then used big wood screws to connect each part to make sure it was solid. Make sure you have the right drill and drill bit for the screw, also so the wood doesn't split, drill a hole first to make screwing in the screw easier! If you can afford it, buy yourself an electric saw to make this quicker.
You'll notice in the photos there is an air vent already in the wall, I decided to create a little make shift window around it so we can cover later on with a grill.
AND BACK TO PLASTERBOARDING!
As the wall now had a frame it was time to finish the plasterboarding on that wall!
James then had his first accident! Be careful with the Stanley knife! There was blood! Ahhhhh!
And there we had it! Both walls fully plaster boarded and ready to be plastered! That was hard work.
THE CEILING
The next thing we put our focus on was the ceiling. We noticed that there we're not any cross beams between the two beams going across, our plan was to plasterboard the ceiling so this was important as it needed something to hold onto.
We just followed the other beams and put a piece of wood above the panel to lock into the beam. Then put lots of long wood screws in and made sure each beam was really solid.
THE ROOF
We then had a change of heart and decided to go the whole hog and insulate the roof and create a little platform above the ceiling, so we had extra space. This meant a lot more sawing and more wood... 🙃
We measured everything up and realised the best and most secure way to do it was to buy some scaffolding planks. We realised we needed 17 ten foot scaffolding planks!! So quite a lot!! They were delivered and we moved them round the back and got started on the platform.
Once everything was cut we had a secure flooring so we could tackle the ceiling insulation!
We bought 3 packs of Knauf Eko Roll insulation to fit between the roof beams and decided to cover that with 3.6mm thick plywood and knocked it all in with 500 20 X 2.00mm inch wood nails.
Very kindly the neighbour lent us his ladders so we could reach the higher parts.
To be honest, this part was the most difficult, it was very awkward to hold both the insulation and boards up and then get enough nails in. Make sure you have someone to help you and that you have good ladders! PHEW!!
AND BACK TO PLASTERBOARDING!
If you thought we'd had enough of plasterboard, then you would be wrong!! We then started to take on plasterboarding the ceiling. For this we got a third person to help, as Kit is a little small to hold up the pieces. Harry (Kit's nephew) and also a budding musician came to our aid!
Before starting this job, the electrician came and put the cables through for all the spotlights. We just had to make sure not to trap the cables when we put the boards up!
After lots of screws and cutting, we got to the final piece!
We got there!! After a bit of hassle with the last bit (we started running out of plasterboard) we screwed in the final piece!
TIME TO PLASTER!
The day we'd been waiting for! After all the hard work getting the room all together we were at the point of plastering the room!
All done by Bernard a great semi-retired plasterer in Bristol! Get in touch if you want his details.
FLOORING!
The next thing we did was bought some laminate flooring, we decided on Caloundra Grey Oak Effect Laminate Flooring from B&Q. We measured out the area we had to cover and figured out the m2 so we got could buy the right amount. Each board slotted together really well, and it was a relatively simple job. Just make sure you start straight and use some wedges so the boards don't fly around everywhere. I also used some cheap underfloor insulation which was really simple to cut and install.
Finally we gave the room a big sweep out and cleared the space for painting.
PAINTING!!!
Now the plaster had dried completely (we gave it about 3 days just to make sure). We went and bought a pot of white emulsion which we did two coats of. Then we found a great deal at Asda for some Magnolia paint, we wanted it to be a brighter colour to make the room not dark and a nice place to learn!
It took two coats on each wall, with both the emulsion and the magnolia. But it all looked great after!
PIANO DELIVERY!
So we then had a very exciting day and had a delivery of a brand new Yamaha upright piano! Which gave us a few hours rest to enjoy this amazing instrument!
GEAR DELIVERY!
Anyway once Kit got over that amazing purchase... it was time to go grab all our gear and equipment from Birmingham. Having spent the last two years in America we hadn't seen a lot of our instruments for a long time! So we were very excited! Brace yourself.....
Yes it is A LOT of stuff!!! We we're pretty overwhelmed at this point!
THE BIG TURN ON!
Big Day!! Scarlett the electrician came back and finished the electrics. We had 6 LED spotlights installed, 4 double sockets, a dimmer switch and an big upstairs LED light. To make sure there were enough lights for the lessons.
THE FINAL SET UP!
So after all our hard work, we just had to put everything in it's place and plug things in and get all the instruments out! Take a look at the end result...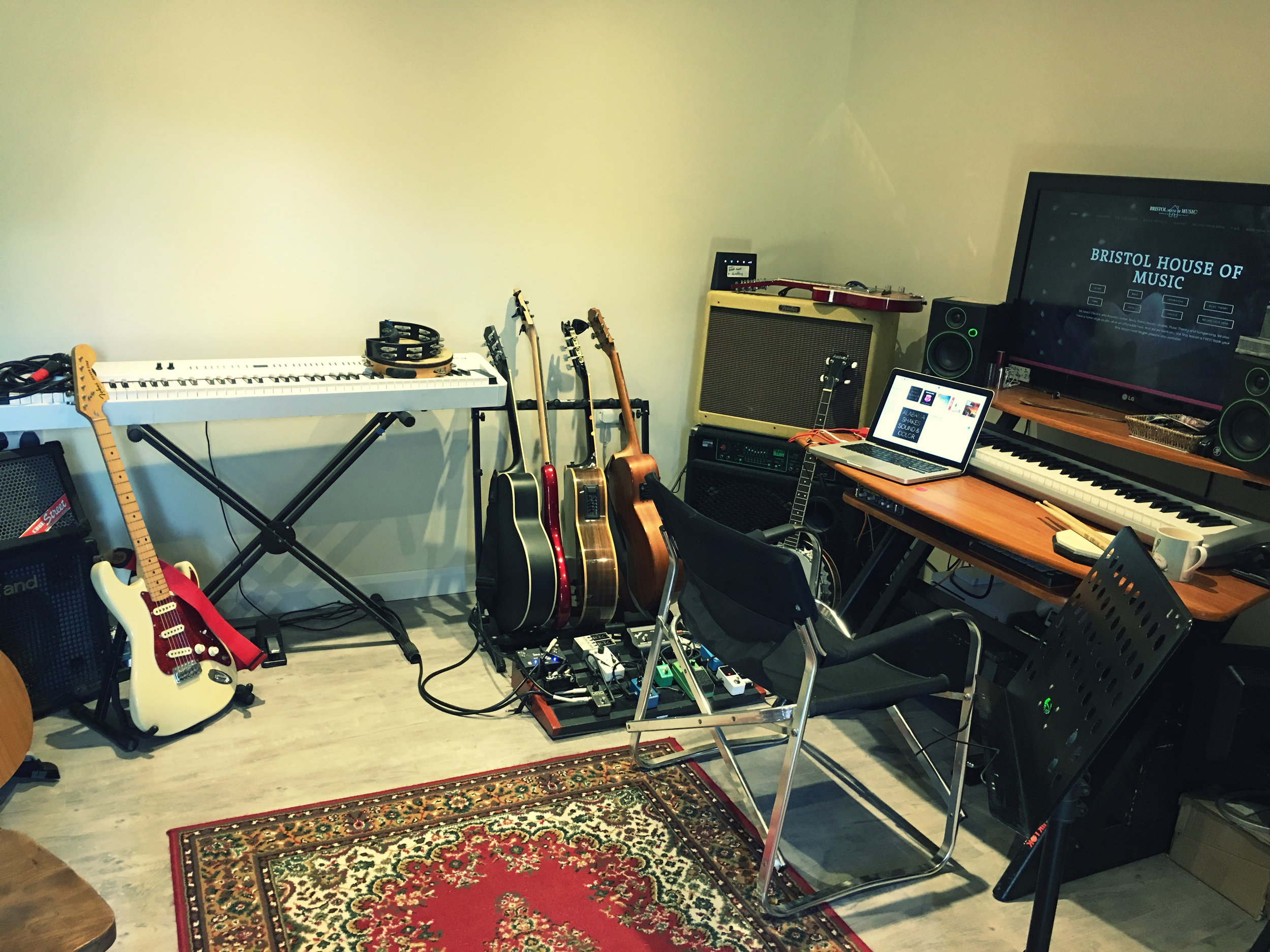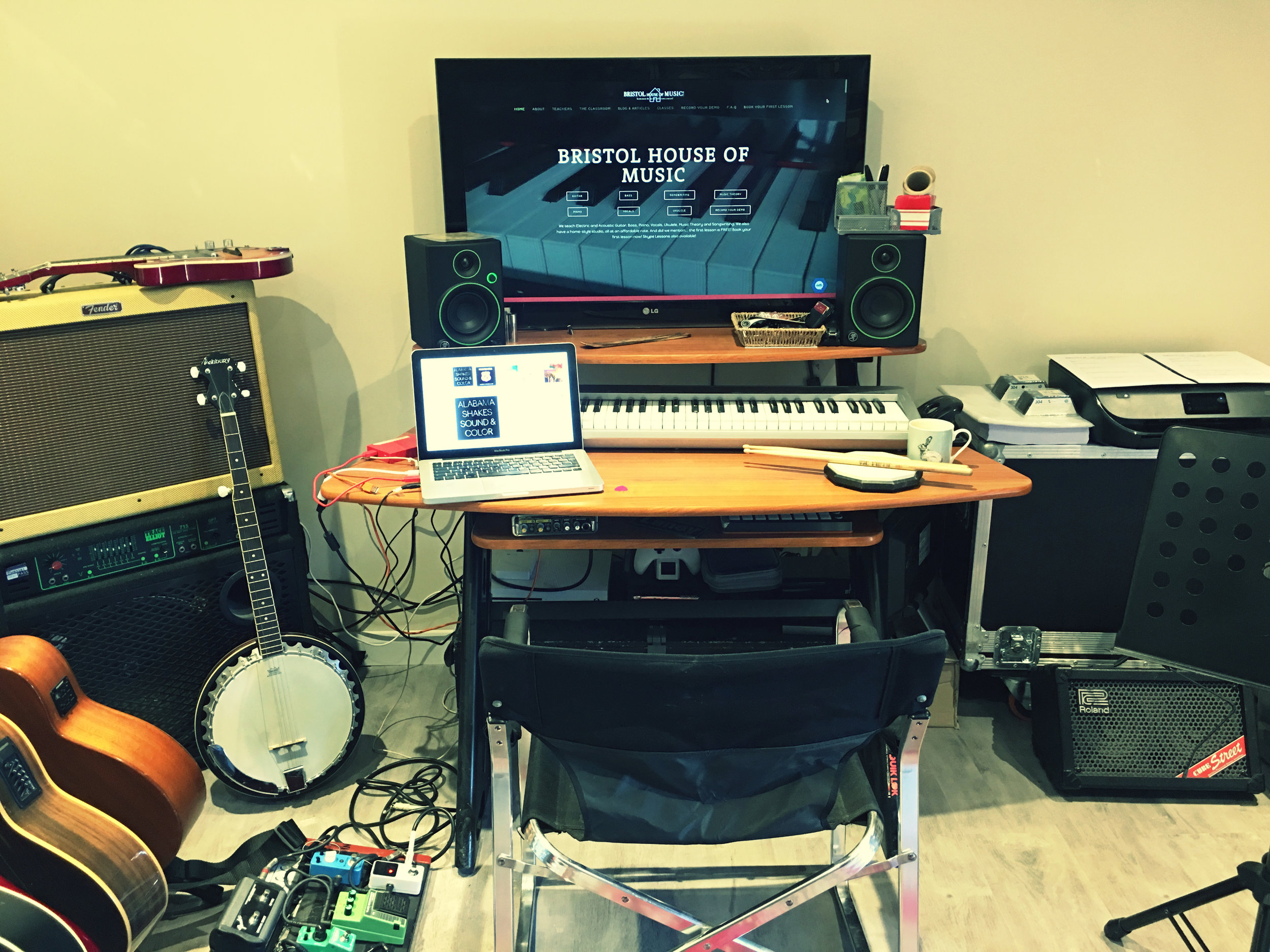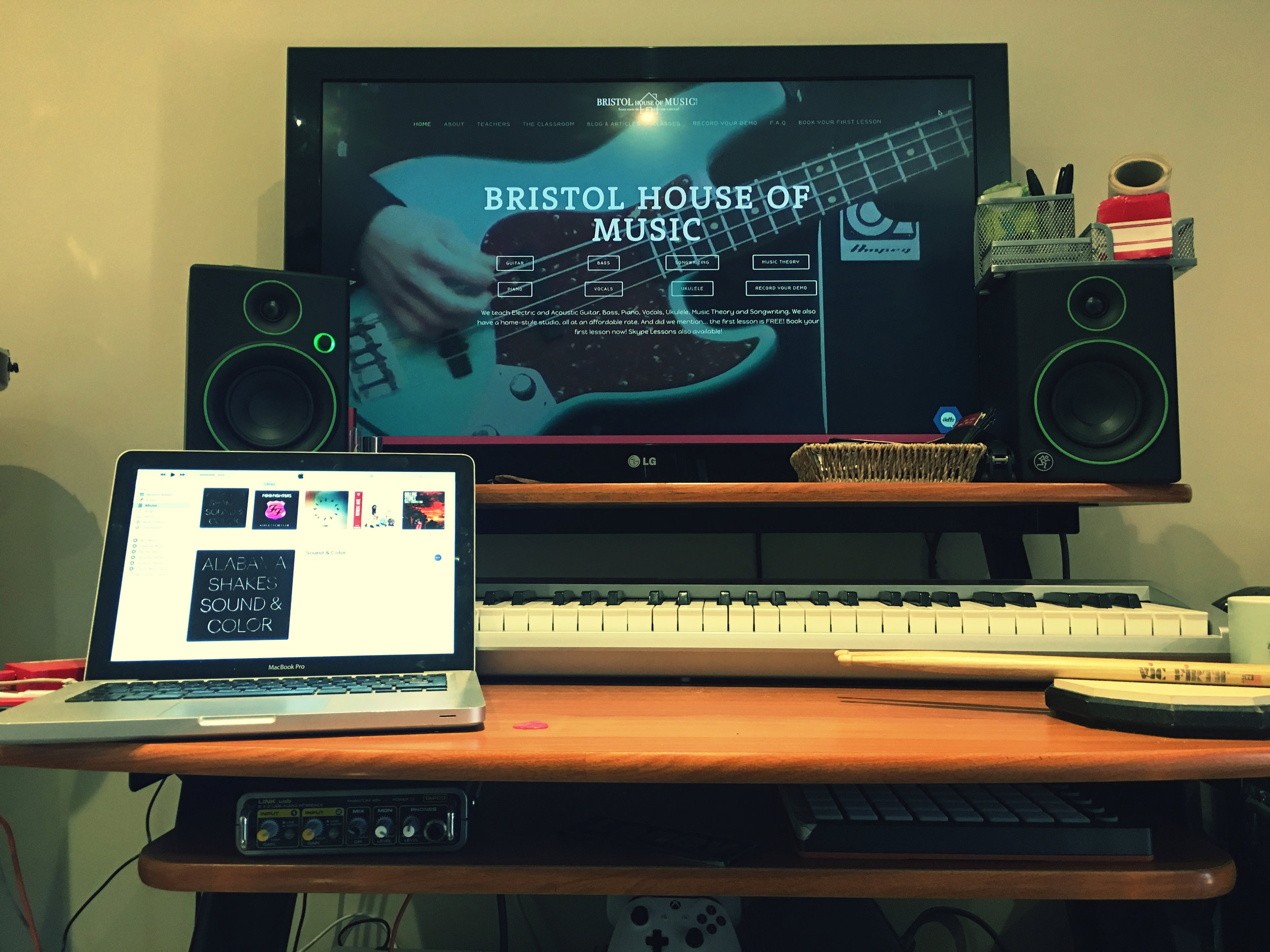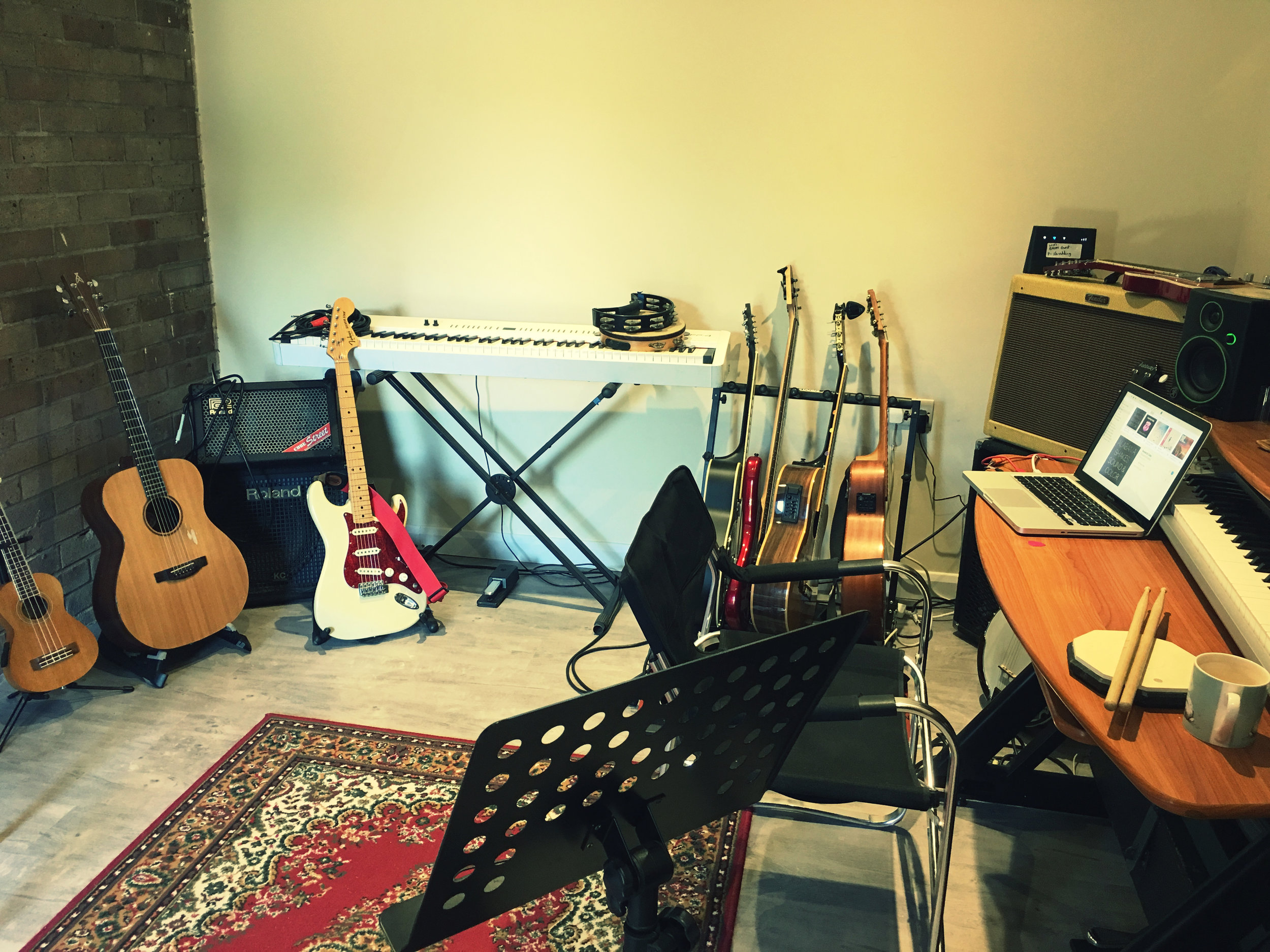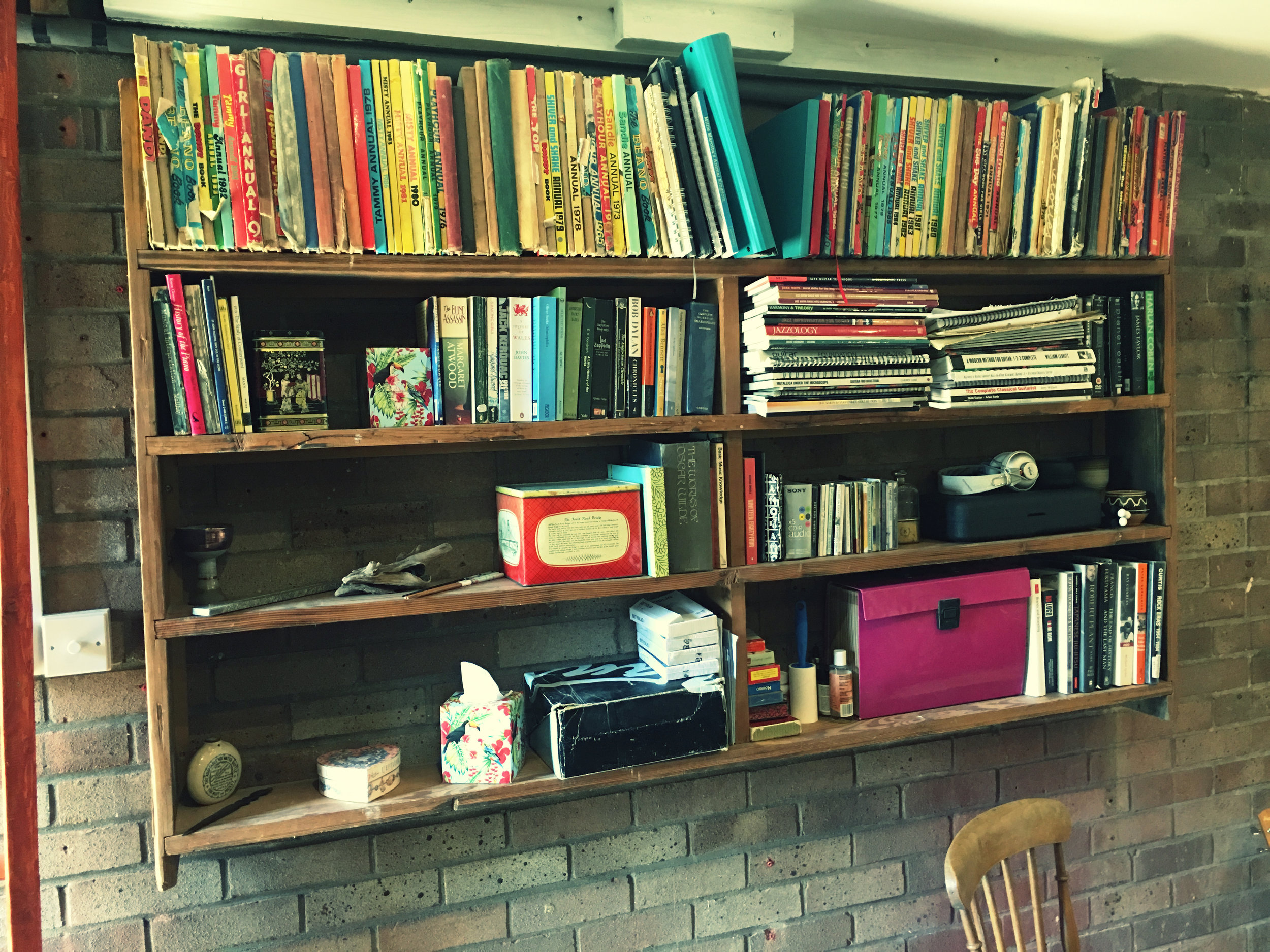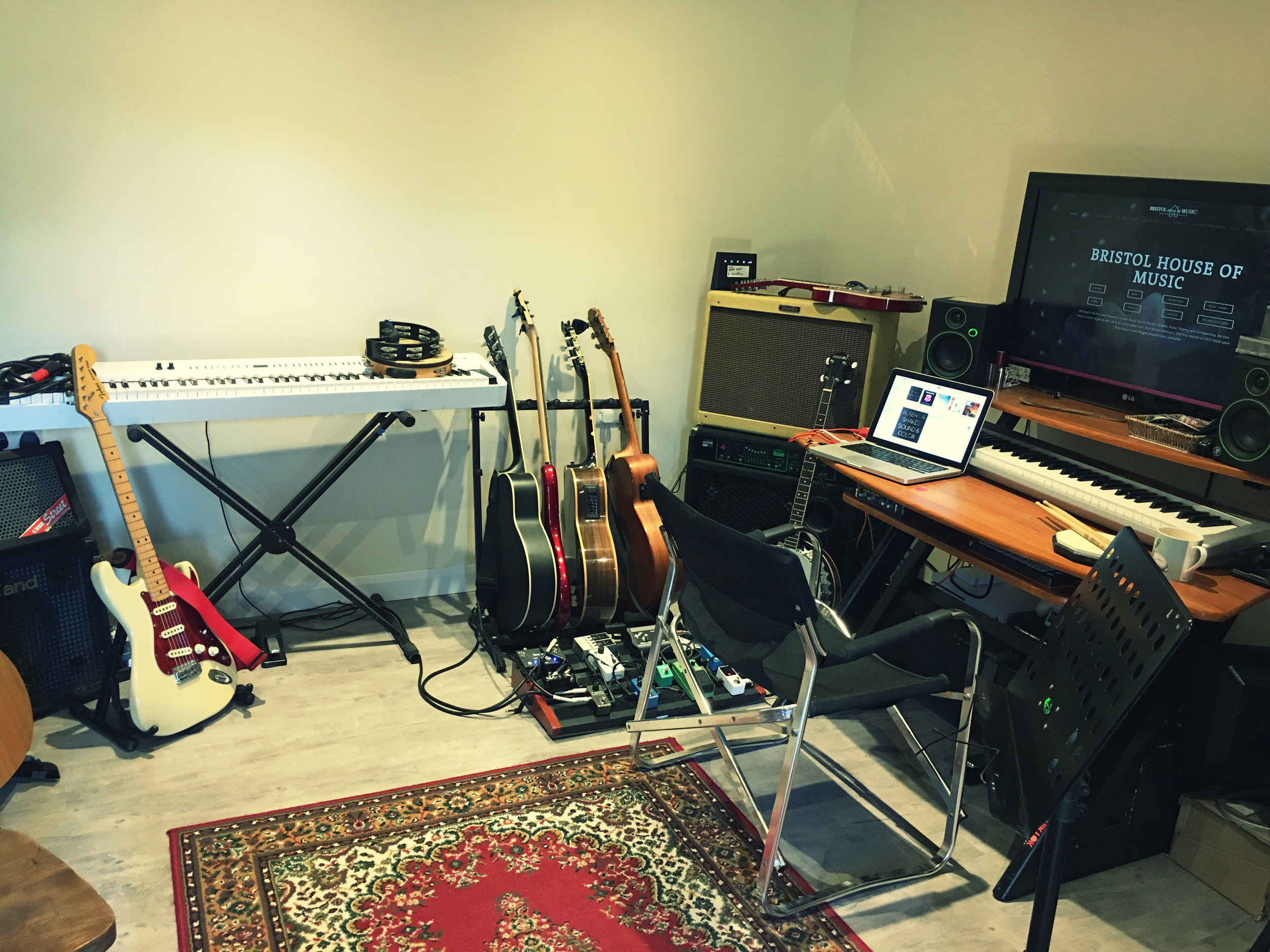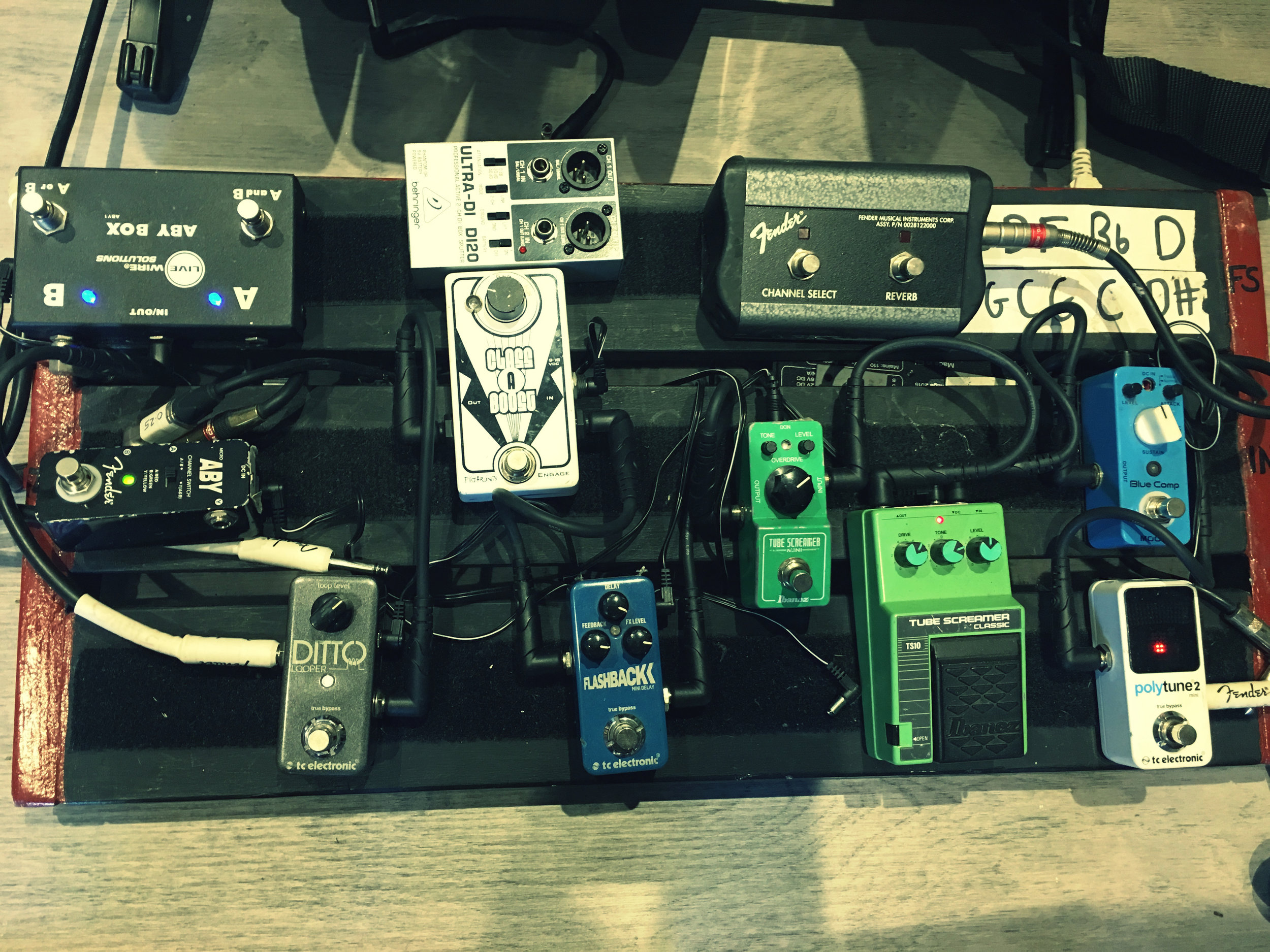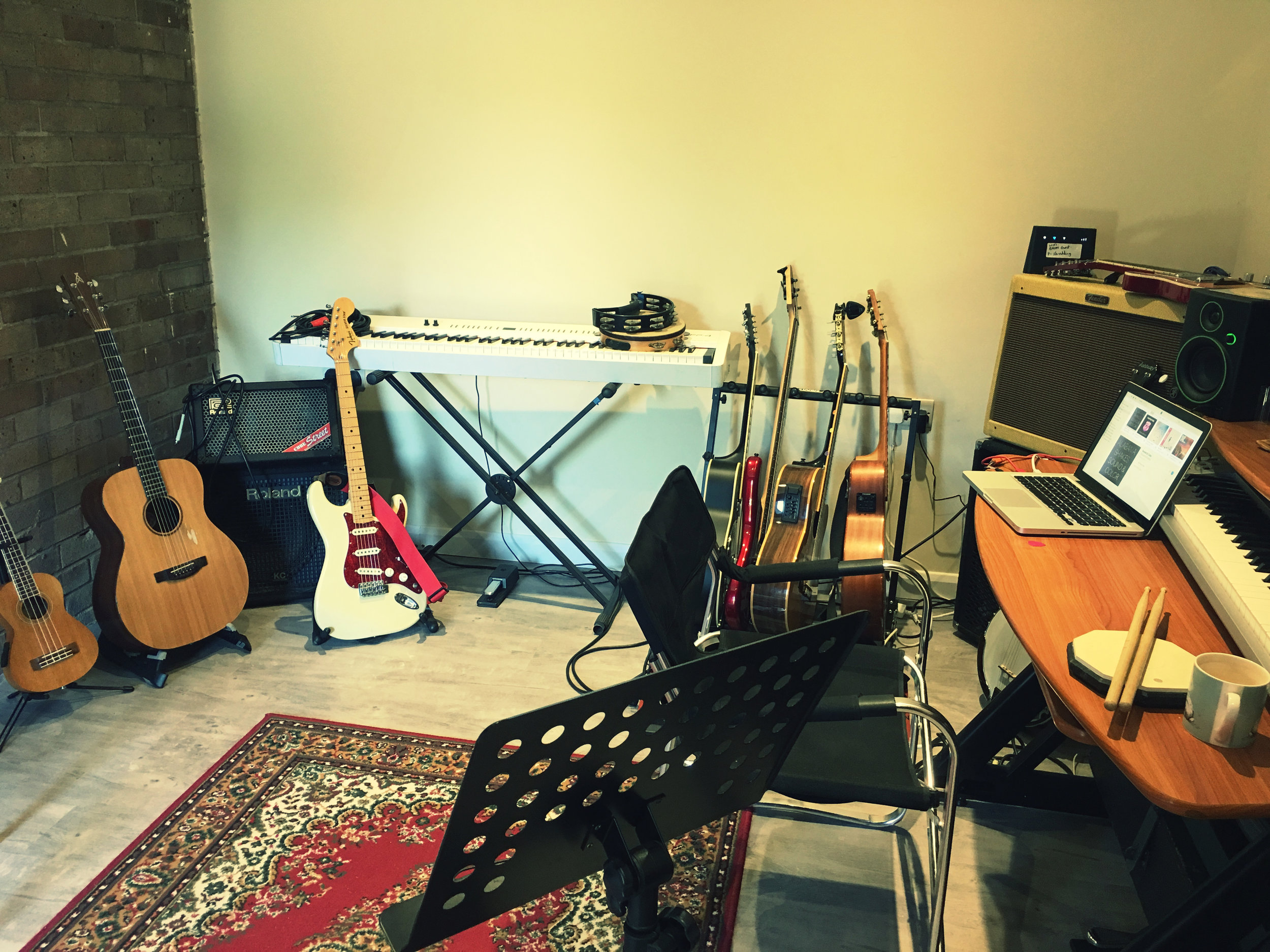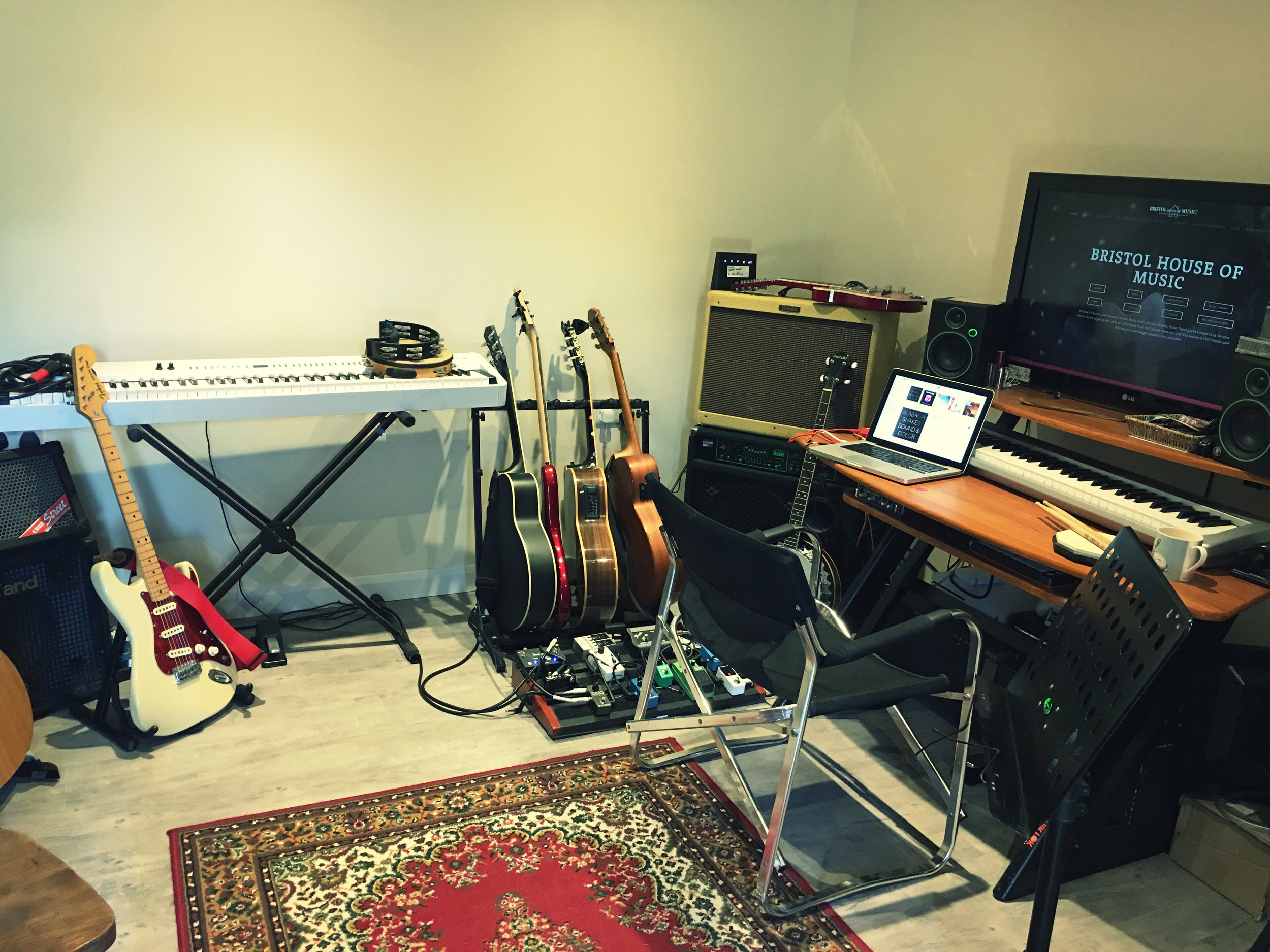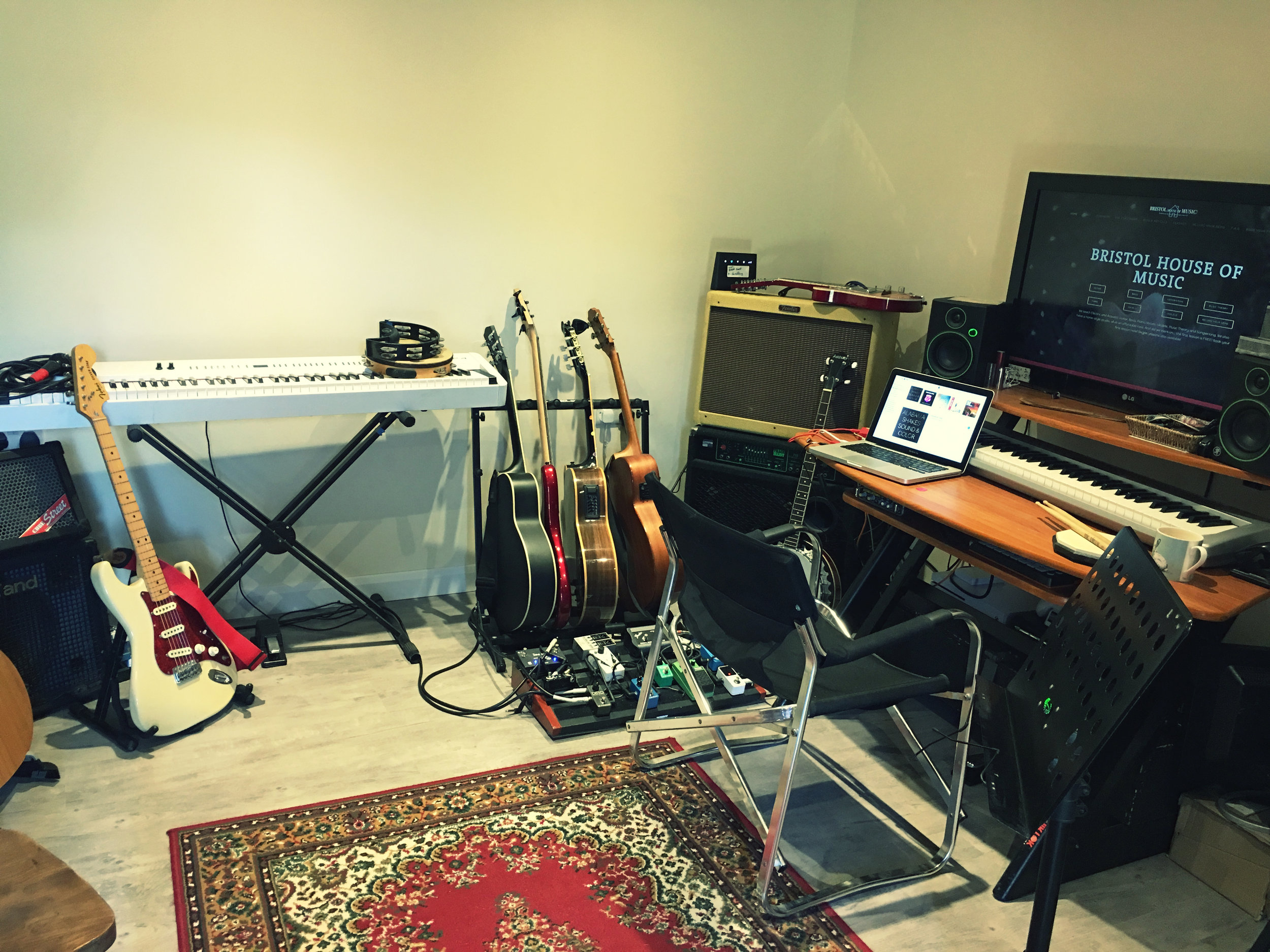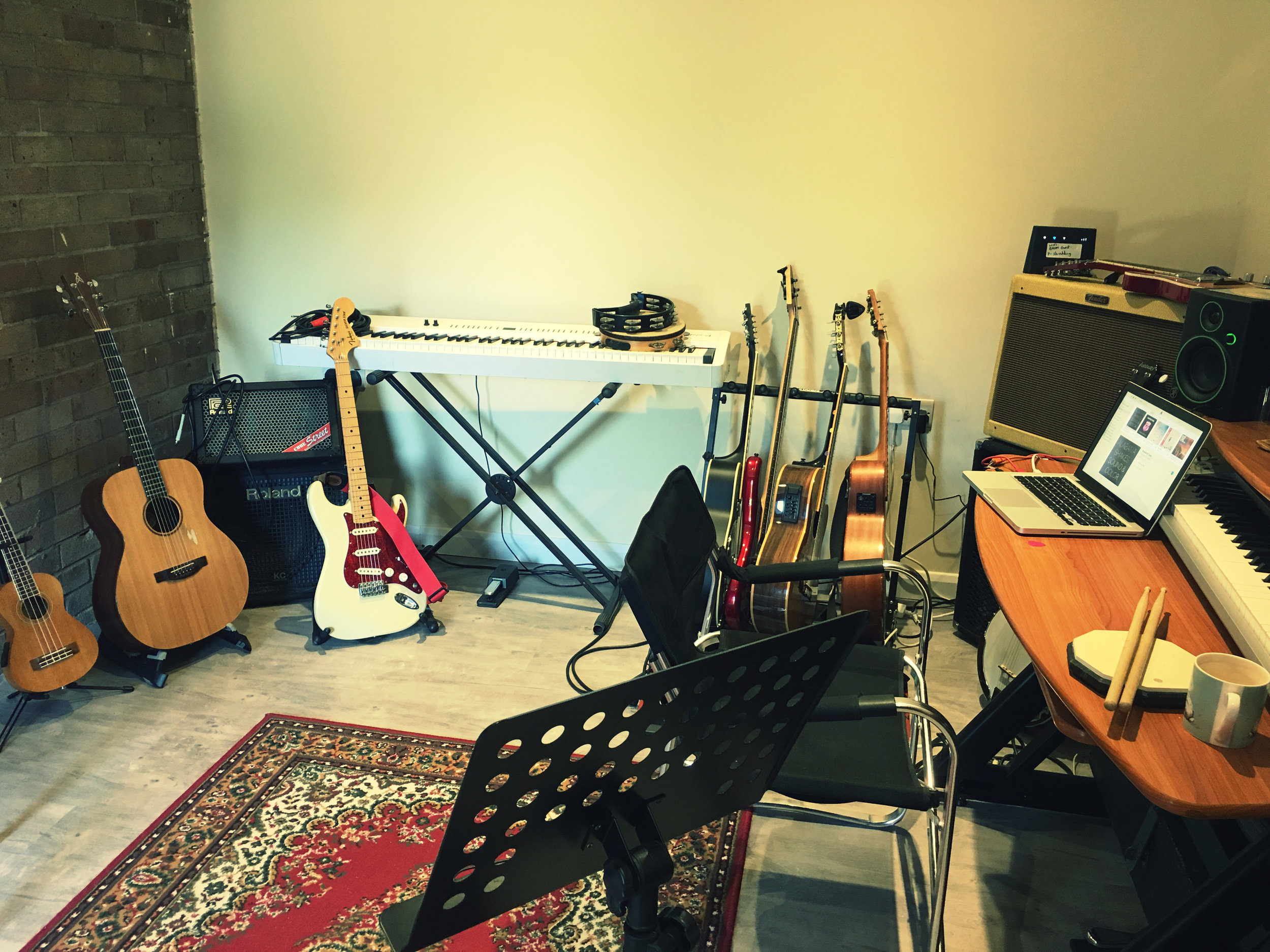 And there we have it! I hope you have enjoyed reading about building our new teaching space at Bristol House of Music! It was a lot of effort but was definitely worth every second. Hopefully this inspires some of you to convert old rooms into music spaces. We will do more articles in the future about some of the other parts of the room and the equipment we have and how that was set up, so stay tuned!
At Bristol House of Music we teach guitar, bass, piano, vocals, ukulele, songwriting and music theory. Book your first FREE lesson now!
Useful videos -